Showcase your Curriculum Vitae in Style
Grab the Attention of prospective employers. Instantly.
Research states that an employer scans 21 CV before shortlisting a candidate for opportunity interview. InternDesk profile page is designed to help attract employers and enhance your chances of landing into opportunity quickly.
- Fill in the details as mentioned in forms
- Invite people and get recommendations
- Get endorsements for your professional skills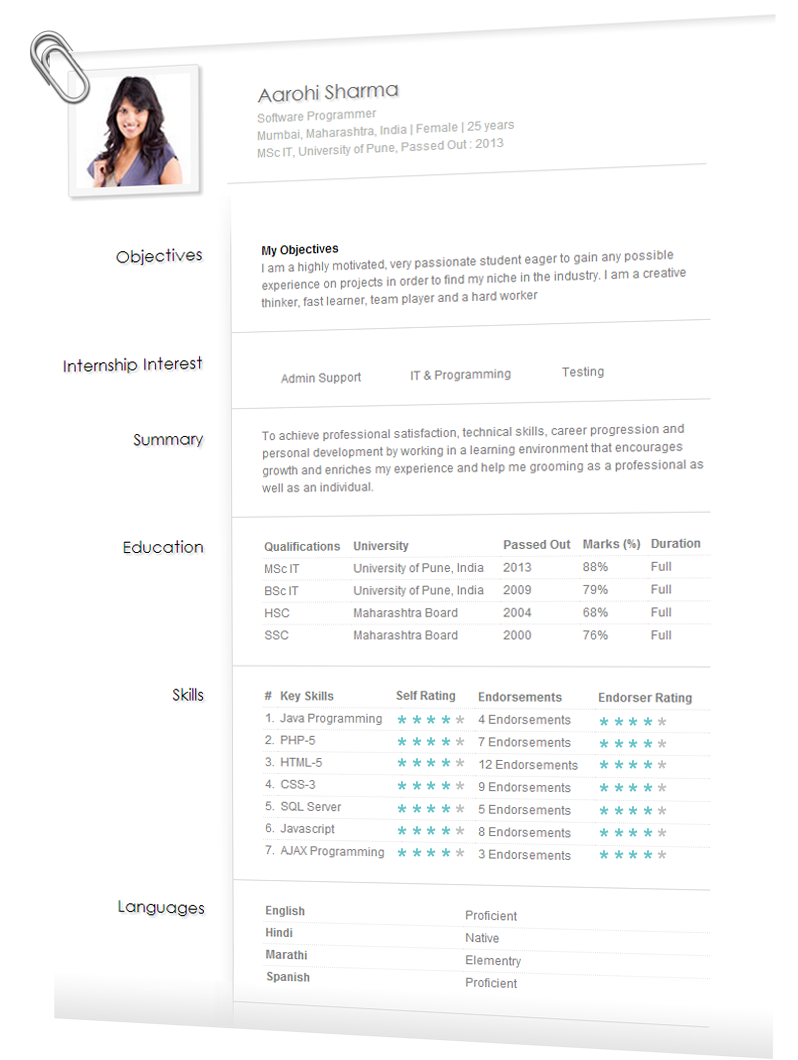 ---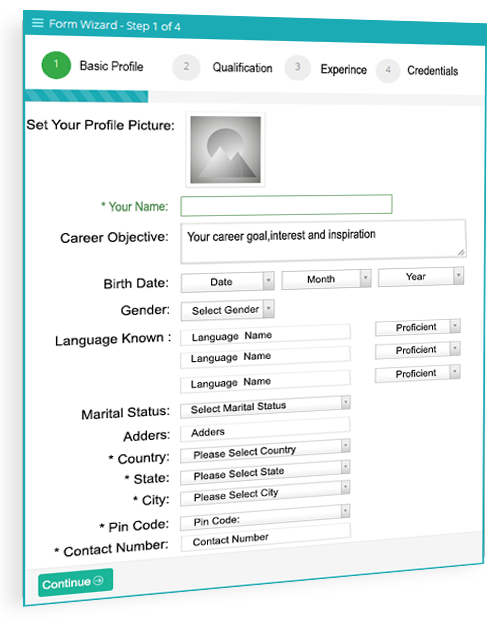 Creating Profile is Easy
Provide Accurate and Up-to-date Information
InternDesk is designed to make your profile discoverable. We Help employers find you faster. Keep the following information ready:
- Photograph
- Education and Academic Records
- Skills and Interests
---
Qualifications
Provide Educational Qualifications and Academic Details.
Submitting your educational details helps employer gauge your match for the opportunity.
Provide details as per the fields provided in the form. Add the last qualification first and go backward for your earlier degrees and courses.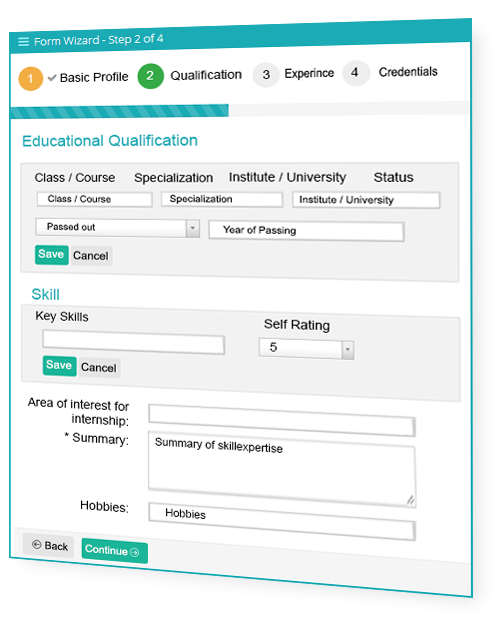 ---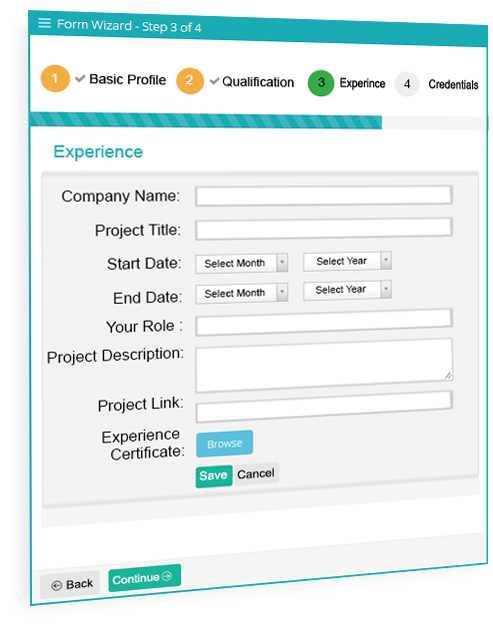 Experience
Add all projects or assignments that you have worked
Experience matters. Add any experience that you have worked in the past. You should include details of school projects, social projects or even if you have helped someone and gained some work exposure.
---
Credentials & Certificates
Show your winning attitude
Have you won the trophy in your school sports?
Did you get special recognition for your contribution?
Upload your certificates and credentials, it strengthens your eligibility for the opportunity.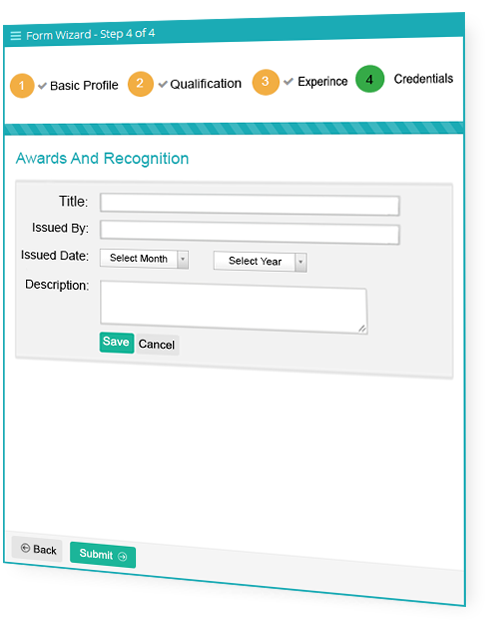 ---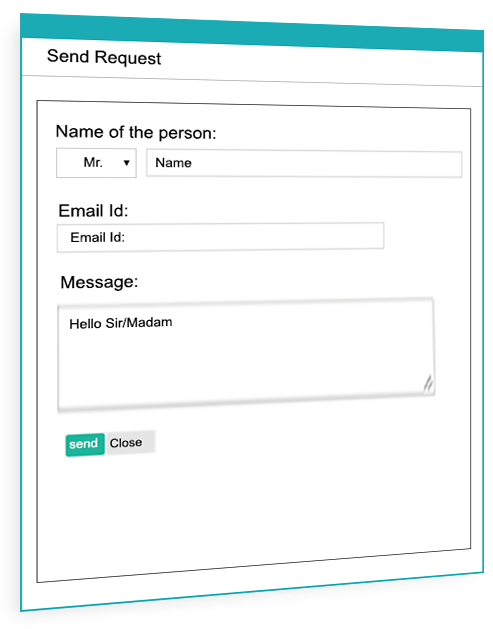 Recommendations
Let your social connect help you influence high probability
Recommendations from reputed professionals help in establishing your social and personal credibility.
InternDesk helps you send invite online to your contacts and they can submit the recommendations online.
Get as many recommendations as you can strike. More the merrier...
---
Endorsements
Get the Endorsements for your skills
Demonstrate to the potential employer that you possess credible skills for delivering the result when recruited. Get your friends, professional acquaintances and your academic contacts endorse you for your skills. Go to your profile edit page and start inviting the endorsements from wherever you can. It Helps.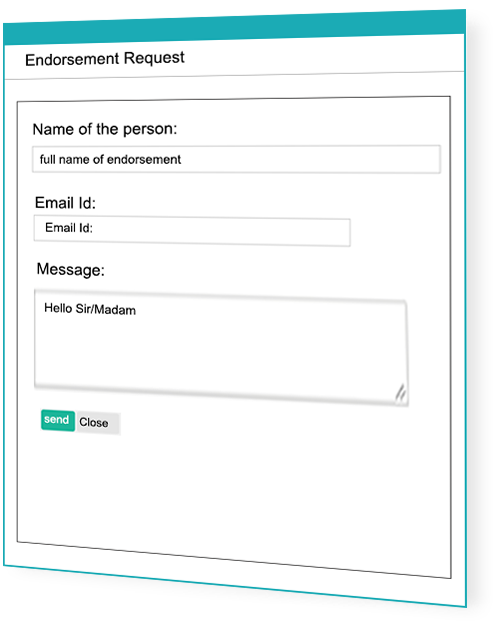 ---
Our comprehensive tools are designed to help you get hired for your dream opportunity!
Keep Applying for the Opportunities
New employers are added and opportunities are posted constantly. Keep applying for the opportunities that matches your skills and expertise.
Keep checking your email as well as dashboard
We regularly send you updates on new opportunity posts, invitation from employers, queries and questions from employer related to your opportunity applications.
Communicate with your potential employer
We provide you set of tools to help you get hired. We recommend you send reminders, ask questions and seek the support of your employer related to the opportunity applications you have made.
We are at your help
Should you require any support, please write to us at support@interndesk.com and we shall be happy to hear from you and help you in your journey to find the suitable opportunity.