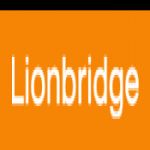 Lionbridge Technologies Pvt. Ltd.

About Us
About Lionbridge
Lionbridge enables more than 800 world-leading brands to increase international market share, speed adoption of products and effectively engage their customers in local markets worldwide.
We provide translation, online marketing, global content management and application testing solutions that ensure global brand consistency, local relevancy and technical usability across all touch points of the global customer lifecycle.
Using our innovative cloud technologies, global program management expertise and our worldwide crowd of more than 100,000 professional cloud workers, we provide integrated solutions that enable clients to successfully market, sell and support their products and services in global markets.
Our unique Global Customer LifecycleSM Framework delivers tangible business benefits for our clients such as:
40% increase in top 10 search result listings
30% increase in global website traffic
35% reduction in global campaign cycle times
20% reduction in global marketing costs
As a result, our clients are growing revenue, enhancing brand loyalty and increasing efficiency across end markets and geographies.
We are proud to work with hundreds of global market leaders including:
Adobe, Canon, Caterpillar, CBS interactive, Cisco, Dell, Eli Lilly, EMC, Expedia, Golden Living, Google, HP, LRN, Microsoft, Motorola, Nokia, Pearson, Pfizer, Philips, Porsche, PTC, RIM, Rolls Royce, Samsung, Skillsoft, Studec, US Department of Justice
Fast Facts
Founded: 1996
Headquarters: Waltham, Massachusetts, United States
Employees: 5,000
Locations: Solution Centers in 26 countries
Revenue: $489 million (2013)
NASDAQ: LIOX
Offices
Head Office
http://www.lionbridge.com/
2nd Floor, Left Wing, SHAILENDRA TECHNO PARK PVT. LTD., #116, 1st Phase, 3rd Road, Vijayanagar, EPIP Zone, Whitefield, Bengaluru, ,
Services
Global Testing
Content Development
Enterprise Crowdsourcing
Global Marketing Services

Language Translation Services
Opportunities
Opportunity Title:
DTP - Apprentice - Fresher
Posted on:
11 Mar 2015
Compensation:
Paid
Starts On:
11 Mar 2015
Time Left:
1990
Description:
Job Details:-   Position              :     Publisher -...