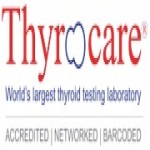 Thyrocare Technologies Ltd

About Us
Thyrocare Technologies Ltd. is the World's Largest Thyroid Testing Laboratory. It is an innovator, trendsetter and leading brand in the Diagnostic Industry, an essential subset of the fastest growing and most exciting Indian Healthcare Industry. Thyrocare with a unique distinction of possessing on its floor, the world's largest and India's first "Total Laboratory Automation - TLA" system, has been duly recognized for its low-cost high-quality laboratory patient services. We specialize in fully automated Clinical Chemistry Testing that covers CLIA, Biochemistry, ELISA, RIA, Nephelometry, Flowcytometry, Haematology and HPLC in our laboratory.
Offices
Head Office
https://www.thyrocare.com
D-37/1, MIDC, Turbhe, Opp. Sandoz, Navi Mumbai ,
Opportunities
Opportunity Title:
Business Developement Executive
Posted on:
07 Apr 2015
Compensation:
Paid
Starts On:
07 Apr 2015
Time Left:
1963
Skills:
marketing, Business Development Executive
Description:
Business Development Executive  Job Description To study and make business analysis of the Healthcare landscape   To identify and connect w...